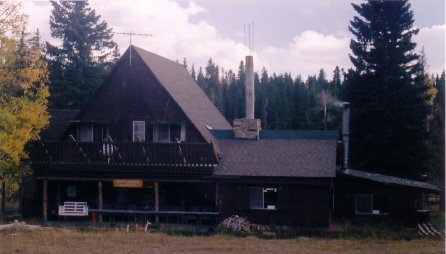 I talked to Bruce Hyatt about getting himself an internet presence. His response defines the man... "I have been here this long without it; I think I'll be just fine without it now."
He knows what works and he's sticking with it.
The best way to get in touch with Hyatt is to give him a call. You can reach him at 1-970-249-9733.
You can also write to him at:
Hyatt Guides and Outfitters
P.O. Box 1288
Montrose, CO 81402
Hyatt can also be found at hunting and outdoors shows in Missouri, Texas, and the Sportsman's Expo series around the west.
A guided hunt package will vary in price depending on which year you choose to book. The rates are fairly competitive, however, below $3000 for most packages, including combination deer/elk hunts. Other available options include one-on-one guided hunts and self-guided hunting. Contact Hyatt for specific prices.
Archery hunts are the most economical, and Hyatt's archers do get several opportunities per season. All of the archery seasons are draw only, and you can draw for both elk and deer if you want to combine them. There are a lot of deer in the area. Keep in mind also that the archery season corresponds with the elk rut.
For rifle hunters, first rifle elk season is the only draw-only elk hunt. During the other three seasons, bull elk tags are available over the counter, or you can apply for a cow tag. First season is also elk hunting only. Second, third, and fourth period offer the opportunity to hunt both elk and deer. However, drawing a deer tag for this zone is more difficult. Hyatt recommends applying one year in advance, in order to get a preference point for deer. If you want to hunt first rifle season, I'd recommend also trying to go ahead and get a preference point a year ahead, to ensure your draw.
In all four seasons, you can apply for either bull or cow tags. A second cow tag may also become available in the area, as it has in many of Colorado's elk units, but was not offered for this 2003 season. For more information on seasons, draws, tags, and other regulations, go to the Colorado Divison of Wildlife website.
Hyatt's service also offers hunts in Unit 61. This is a quality elk unit, and is much more difficult to draw. Hyatt estimates that for a non-resident, it may take several years of preference points to get drawn for Unit 61.
It might be worth the wait, though. I spoke to a game warden on Monday, halfway through the first rifle season. He said he'd checked several elk in Unit 61 already, and it traditionally produced several good bulls. Other people I talked to also spoke very highly of the area, and tales of large herds and huge bulls were common.
A regular hunting package with Hyatt includes room and board in his main cabin. You'll get three meals, including a hot breakfast and hot, family-style dinner. Lunch is usually bag lunches consisting of sandwiches, snacks, and sodas.
For couples who want to hunt together, there are two "private" rooms in the cabin. You'll need to make arrangements in advance for this. You can also bring a non-hunting partner or guest for half the price of the hunt. It's a great escape, and there's some beautiful country to explore.
After only one experience with Hyatt and Co., I'm completely sold and will be booking again for my next Colorado elk hunt. Maybe I'll see you there!