Edward Abbey?

Abbeyweb

News and Doings

Old News

Hot off the presses!
---
Vox Clamantis in Deserto
"When my own turn comes to lie down, die, and decay, nourishing in the process some higher form of life --- a clump of sage, a coyote, a prickly pear, a pissed-on aspen tree ---I hope the blessed event takes place high on a canyon rim, with a final vision of red cliffs, magenta buttes, and purple mesas in my fading eyes."
From: Forty Years as a Canyoneer
Who the hell was he? Why should you care?
Well, if you hadn't cared, you wouldn't have clicked on that fairly cryptic link from my Outdoors page. So maybe you do care. In fact, you probably know who he is. If you don't, there's no easy way to describe this Desert Rat author or his works. And I won't really try, since other folks have done it so much better than I ever could. Suffice it to say he wrote about the desert, humanity, desert humanity, the inhumanity of humans, and lots of other stuff. He was often criticised, sometimes despised, and by those of us who were touched by his work. . .greatly admired.
I've been logged into a wonderfully weird and eclectic newsgroup called the AbbeyWeb for a couple of years now. Check out their site, and have a look at what others have had to say, link to some more pages about this man/myth, or join us on AbbeyWeb. Just don't expect regular doses of literary criticism and deconstruction. Topics on this list range from Abbey to zoology, and literally all points in between. We flame one another, crack stupid jokes, share stories of adventure and exploration, and just basically stay in touch. We are engineers, computer geeks, writers, teachers, doctors. . .etc. In fact, here's a bunch of us now!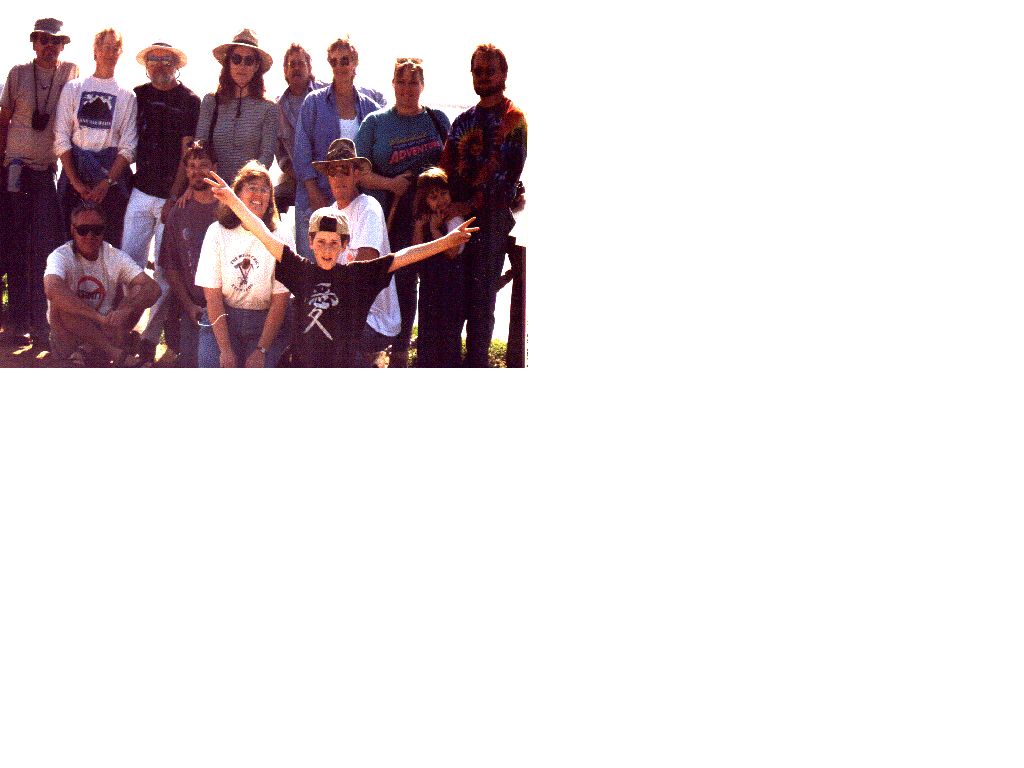 In no particular order. Chupacabra, Sgt. Kat, Face Licker, Ze Kraut, RinoGuy, Wayne, Pippi Longstockings, Moaneek's guy friend, Connie, the littlest Abbeyista, Terry, Terry's accomplice, another small Abbeyista, oh, and some handsome guy that showed up to be in the picture.
If you really like what you've seen, you can join AbbeyWeb. Send an EMail to abbeyweb_request@abalon.se and put "Subscribe" in the body.
---
Return to Elwing's Outdoor Page